Which Obelisk Sidekick Would Be Your Perfect Adventure Pal?
posted on March 30, 2015
When approaching a battle, what is your tactic?
Try to talk and work things out.
Face them head on!
Play dirty and steal their weapons.
Offer them some cake.
A few magic spells.
It's a secret.
What is your weapon style?
Force by a zombie army.
Magic all the way.
Brains and strategy.
An axe.
Knives.
True warriors.
I don't need one.
What is your victory meal?
Crumpets and tea.
Anything meat.
Veggies all the way.
Bread and stew.
Rotten foods
Lots of SUGAR!
These options are all gross!
Which land would you like to visit?
Lost Desert
Tyrannia
Altador
Haunted Woods
Faerieland
Boring, neither!
Which best describes you?
Lurking shadow creature.
Keepin it real.
Proud nerd.
Random Silliness.
War lord.
I am SO happy!
Wut?! Neither!
You got: Envy!
You only care about power and being the best!
via bookofages.jellyneo.net
You got: No Obelisk character matches you! =(
But, this creepy meepit would love to be your sidekick!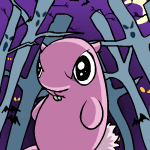 via images.neopets.com
Your Reaction
GOODNIGHT

omg

win!

LOL

eww

cute